Here at Shoreline, our signature in every custom home is always the flooring. We are known for our truly reclaimed 150-year-old barn wood site finished floor and our clients love the look! We have a supplier that tears down barns in the northwest US and takes the wood directly from the barn and brings it here to be installed.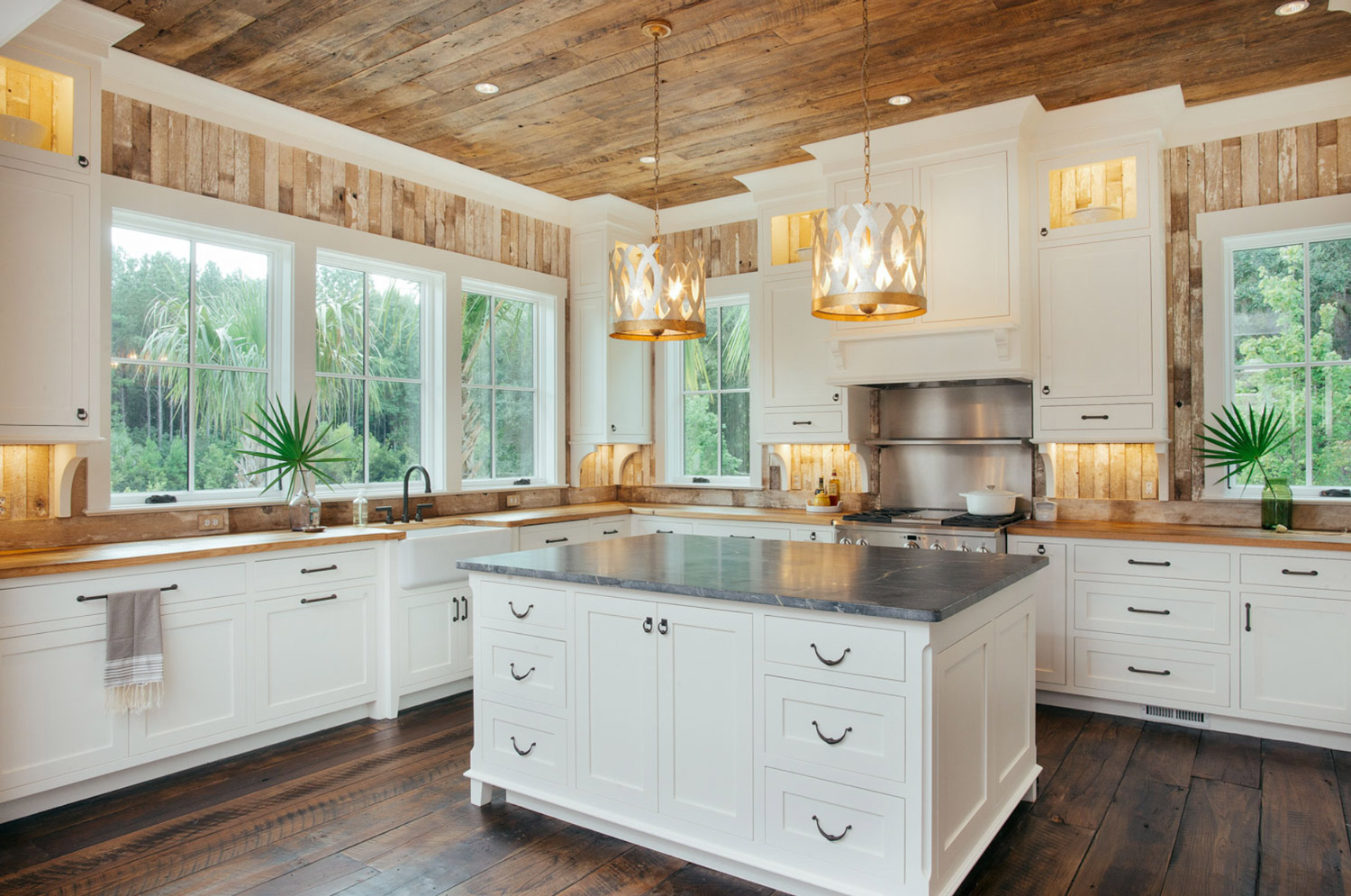 Its truly an amazing process and these floors have such history and tell their own story for sure!
The newest craze is white oak
this more uniformed but still custom look is coming in fast. It is lighter, it comes in both machine sewn or rough sewn so you can control the "rustic-ness" of it, can be stained or just clear coated, and tighter gaps and even heights make it easier to clean.
In addition to these popular two real hardwoods, there is also a plethora of other types, colors and styles. Such as pine, poplar, red oak, and so much more! This type of flooring is durable, able to be personalized and easily repaired but is pricey. The barnwood and white oak options can run anywhere from $9 sq ft up to $20!
The next type of flooring is laminate. This type can mimic hardwoods in look and even feel sometimes but much more affordable, very durable as its made of either lots of pressed material or rubber and plastics. It can be used in wet areas depending on type and is easy to install. It comes in thousands of different verities from bamboo, pine, oak to even cork depending on your tastes and budgets.
The next type of flooring is tile! This used to be ALL the rage to use in entire homes but has lost some of its trendiness in the last few years. But tile can still be a wonderful choice no matter home level. There is the expensive marble and travertine look that can be designed in patterns and intricate designs for interest and a high-end look. Then there is the classic porcelain or stone tiles that are super durable and great in wet areas like kitchens, baths, laundry, porches and pool areas. They even make very realistic wood look tiles that give you that warm wood look but have the durability and water resistance of tile.
Carpet is flooring type number 4. This tried and true home staple will never fully go away and does its best to keep up with trends and stay relevant. Its true carpet is not looked at as beautiful or used throughout homes anymore, but it's still very useful and has a place. Lets face it, if we didn't care at all about looks and price point, we would all carpet everywhere for comfort right?! There are tons of colors and designs that make it a tad more flattering but I doubt we will be covering our homes and walls with that long shaggy stuff from decades past. We still love this cozy element in guest rooms, playrooms, mancaves and media rooms!
Last but certainly not least, the newest trend we see peaking into the market is actually the most cost effective in the market…….. concrete!
Byt using your slab foundation as the actual floor there is no need to purchase flooring. There are tons of products and treatments to achieve almost any desired look. With rugs and furniture, how much flooring can you really see anyways? This look is modern industrial and may not fully fit in our lowcountry "fixer upper" trend right now, but in the next year or so, it will take a slight move in that direction. This could even be a DIY project for those handy people or a simple painter can handle it. Unlimited color selection make it universal for any décor, it can even be designed to look like tile or even wood! And for the cost of a few gallons of paint, you can put that huge floor budget into something way more fun!
Hope you've enjoyed learning a bit about the most popular floor options. Don't worry, if you build your dream home with us, you get an in house designer to help guide you through all these tough decisions and keep you on budget and on time!
Reach out with any questions!!